Why West Virginia is the Perfect Place to Buy Land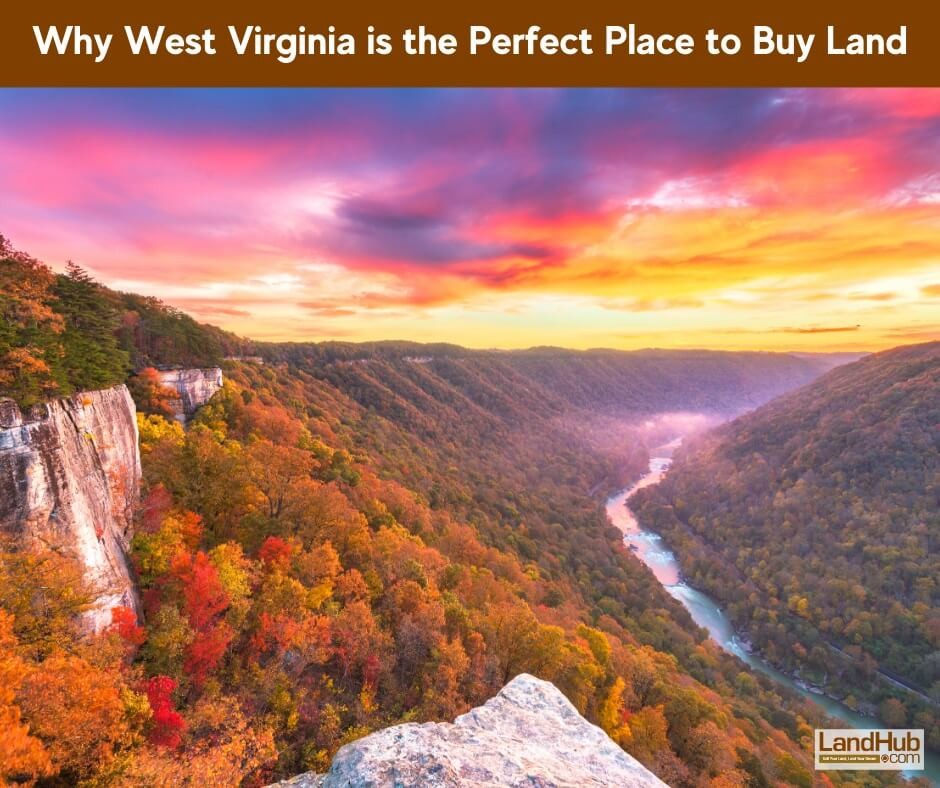 Do you like the idea of living a quiet life but having the proximity and accessibility to cities if necessary? What about owning a waterfront property without the giant price tag found in many other places? West Virginia is somewhat of a hidden gem for many reasons. The Mountain State is also called the northern-most southern state or the southern-most northern state.No matter how you look at it, there are some consistent truths as to why you should consider purchasing land in West Virginia. read more...
West Virginia
At LandHub we have a large selection of land for sale in West Virginia. Check out the different types of land available including acreage, ranches, rural properties, hunting land, and more. Start looking in West Virginia for land for sale today with the help of LandHub. West Virginia earns its nickname of the "Mountain State" fair and square - every one of its acres lies within the Appalachian Mountain Range. In these mountains adventure seekers find some of the country's most exciting Class VI whitewater rafting, challenging rock climbing and world-class fly-fishing. In hunting season some 1.5 million acres of public lands open for the pursuit of whitetail deer, grouse, boar, and bear. Agricultural land in West Virginia looks much as it did when the state was carved out of western Virginia during the Civil War in 1863. Industrial farming in West Virginia is almost unknown - more than 98% of the cropland is controlled by the owner-operators. The average farm size is still just about 160 acres. In this rural economy many land deals are executed among neighbors and families so outsiders need to tap into this cloistered network to find the best property sales. West Virginia is known for its coalfields and natural resources. Land can be bought with separate surface and mineral rights making rural land affordable if you don't plan to sink an oil well or mine shaft. Waterfront property can be scored along some of West Virginia's 2,000 miles of swift-flowing streams and 46 named rivers, including its formidable boundary rivers - the Ohio, Shenandoah, and Potomac. The fastest-growing counties in West Virginia are Berkeley, Morgan, and Jefferson in the Eastern Panhandle, close enough to Washington, D.C. to be part of the capital city's burgeoning suburbs. More typical are the isolated communities of the state's southern region which John Denver described as "almost heaven" when he sang Take Me Home, Country Roads. West Virginia's beauty is protected by seven national park properties and over 200,000 acres of state parks.
Frequently Asked Questions
The state of West Virginia is surrounded by the Appalachian mountain range and is also known as the Mountain State. It is considered to be the northern-most southern state and also the southern-most northern state.
Facts About West Virginia
Grafton's Andrews church observed the first Mother's Day.
This state's population is older than any other state with the average age being 40.
West Virginia was the 1st state to bring sales tax into effect on 1st July 1921.
This state opened the first-ever women federal prison in the U.S in 1926.
It has the nation's largest and oldest burial grounds in Moundsville.
Forests take up about 75% of the land in West Virginia with a population of over 1.8 million.
It has the lowest crime rate.
The 1st rural mail delivery for free started in 1896 in Charlestown.
Wheeling had the 1st suspension bridge in the world completed in 1849 and was the birthplace of outdoor advertising in 1908.
Alexander Campbell started the Christian church in Bethany, West Virginia.
How Much Is An Acre Of Land Worth In West Virginia?
The cost of buying land in West Virginia is not too steep. Depending on the neighborhood, you can get an acre of land for $1000 but a 2-hour drive to a nice locality may give you an acre for $10000. The prices here depend on the neighborhood. So, research well before investing in a property. With just 7 percent of the entire state's land developed it forms only 17.4% of the total value of the state. As an investment, you need not worry before buying land here.
How Many Acres Are In West Virginia?
West Virginia is spread across 15.5 million acres of land with a fifth of this owned by the national and state governments. It has about 21,000 farms with each farm over an area of 175 acres on average.
Is West Virginia A Good Place To Live?
A beautiful state with so many towns growing steadily towards modernism. Most towns here are so small that every person knows every other person. But do not mistake it, with lower crime rates, good schools and universities, friendly neighborhood, ecstatic views and a lot of job opportunities, this is a great place to settle at any age. Hunting, kayaking, white-water rafting, fly-fishing can be enjoyed in most places here during the right season.
What Is The Climate Like In West Virginia?
A subtropical humid climate can be enjoyed in this state with cold winters and warm summers. The higher altitude regions have varying climate. The topography of this state consists of rivers, lakes, forests, and wetlands. Adventure seekers can have great fun here due to the natural challenges in its geography. Summers are humid with the average temperature between 82 degrees Fahrenheit and 87 degrees Fahrenheit and winters are not too cold with an average temperature between 20 degrees and 30 degrees Fahrenheit. January is the peak of winter and July is the peak of summer.
Why Should You Buy Land In West Virginia?
Beautiful scenic views from every piece of land are almost guaranteed in West Virginia. While 75% of the land is the forest here, 7 national parks and 200,000 acres of land for state parks, the remaining is not so easy to own. The people in this rural state are traditional and close land deals among family and friends. As an outsider, you need to rely on someone capable of getting the best for you. Properties with waterfront are available as the state is home to about 46 rivers and many streams. You can opt to buy property in Morgan, Jefferson, and Berkeley which are closer to Washington D.C.